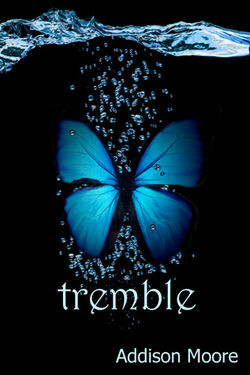 Tremble is a novel by Addison Moore and the second book in the Celestra series.
Tremble is 203 pages long and was first published on March 26, 2011 by Moore on Amazon Digital Services. It is available for download on Amazon.
Plot Summary
[
]
Sixteen year-old, Skyla Messenger is determined to bring back the dead. For Skyla, being an angel from the coveted Celestra faction hasn't been easy. An entire band of wicked angels is after her blood, a Sector is after something far more sinister, and her newfound powers lead her on a quest to save her dead father. Skyla and her boyfriend Logan Oliver try to piece together a plan to take down the Countenance in order to maintain their relationship, but will Skyla's burgeoning feelings for Gage Oliver get in the way? And when Skyla decides to use her powerful blood to change the fate of another deceased soul, just who is going to stop her?[1]
Characters
[
]
Quotes
[
]
"Anyone ever teach you to run away from danger?" "Don't be stupid, Ellis." I open the door. "That's where all the fun is."
If you scream in the forest with no one around, do you really make a noise?
Inevitably, we all die. In your sleep if you're lucky—unconscious, unaware of what's transpiring around you—an instant transport to another realm. A beautiful place, if you know the way. - (First Line)
Because you tend to lose people.
If it's one thing his death has taught me it is to appreciate the flesh and blood in front of you. You never know when it will disappear.
I'm so out of control, I can't even control myself. How's that for irony?
"I hear you're the purest, most dangerous bad ass Celestra on the whole effing planet."
Dear Skyla, This changes everything.
If Tad and I are on the same page then for sure this whole thing reeks of rotting corpses.
It's amazing what an energizer anger can be, how jealousy fuels a toxic hate so powerful I could jump to the moon if I wanted.
References
[
]