Toxic is the seventh book in the Celestra series by Addison Moore and was published in two parts due to its length.
Toxic Part One was first published in September 2012, followed by Toxic Part Two in November the same year.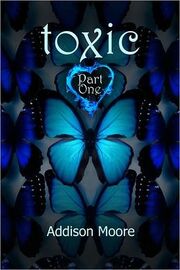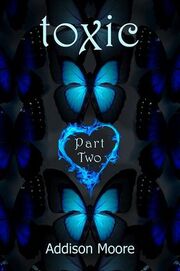 Plot Summary
[
]
Toxic Part One:
[
]
Skyla Messenger's days are numbered.
With an angelic Faction War riding on her shoulders, and her mother's newfound need to cozy with the enemy, Skyla also has to deal with the fact someone close to her has openly deceived her.
Skyla learns that sometimes in life, and in love, things aren't always what they seem.[1]
Toxic Part Two:
[
]
Skyla Messenger's days are drawing to an end.
Seventeen-year old Skyla has been taken by the Counts, is under the strict punishment of her mother in a war gifted in her honor, and is the only hope of the people captive in the tunnels. Everything that can go wrong has. For Skyla, life is panning out to be more of a curse than a blessing.
Relationships change. The war draws to an end. Death comes to Paragon.
Skyla must decide if she is brave enough to sacrifice everything in order to save her people.[2]
Characters
[
]
Quotes
[
]
References
[
]