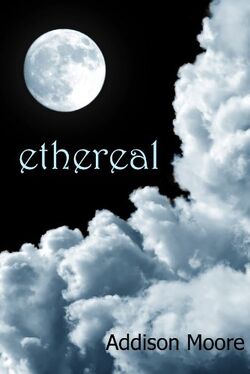 Ethereal is a novel by Addison Moore. It is the first book in the Celestra series.
Ethereal is 162 pages long and was first published on March 26, 2011 by Moore. It is available for free download on Amazon.
Plot Summary
[
]
Sixteen-year-old, Skyla Messenger is a dead girl walking.
When her newly remarried mother moves the family to Paragon Island, to a house that is rumored to be haunted, Skyla finds refuge in Logan Oliver, a boy who shares her unique ability to read minds.
Skyla discovers Logan holds the answers to the questions she's been looking for, but Logan's reluctance to give her the knowledge she desires leaves her believing Logan has a few secrets of his own.
Skyla's bloodlines may just be connected to the most powerful angelic beings that roam the earth, and the more she knows, the more danger she seems to be in.
Suddenly an entire faction of earthbound angels wants her dead, at least she still has Logan, or does she?[1]
Characters
[
]
Quotes
[
]
"Don't let anyone tell you that you can't do something. It's poison every single time."
"Falling in love is a lot like death. It chooses you. It decides the moment and the chain of events that will preclude the precise intersection of life in which it occurs. It uses you—treats you as though you were malleable in its warm pliable hands. It doesn't bother to ask if you want it, or need it, just fills the gaping hole of destiny's design." (First Line)
I know the end of the story before it ever begins. I must choose love. And for this, I will surely die.
"'No.' I strengthen my death grip on the trunk of the tree. 'I'm very afraid of heights. I'll need hours of therapy to repair the damage done here today.'"
"He was the gravity that kept my sanity aligned. Without him I am adrift, without a compass and without a home."
"Also, there's the whole deal about east side, west side, which suggests to me I should be expecting musical gang fights, and lots of girls named Maria."
"A dark figure appears behind me, causing me to jump and hold my toothbrush out like it's some diabolical lethal weapon someone might actually fear."
"Just the sheer heft of how hard it is convincing my mom, you would think we were asking to sacrifice kittens at midnight."
"Fresh meat. Good thing I'm partial to carnivores."
"Love. My world blooms with its beautiful never-ending ache."
References
[
]